Drivers in the mid 1970s made this brand their favourite car for 1975: the Oldsmobile Cutlass Supreme.
Faced with concerns over gas prices due to the energy crisis in previous years, car buyers in the US focused on the Oldsmobile Cutlass Supreme, which had two smaller engines.
This type of car had debuted in the early 1960s from General Motors, designed by Irvin Rybicki. Considered a senior compact, the Oldsmobile Cutlass Supreme was larger than the Chevrolet Corvair, but smaller than the cars that had been designed previously.
The fourth generation debuted in 1975, and there were many styles to choose: four door sedan, two door coupe and five door station wagon. The car was assembled in Texas, Georgia, Michigan and Massachusetts.
Most buyers chose the model with an automatic transmission and appreciated the car's design that made it appear more like a large car than a compact model, with its distinctive front grill and sleek side windows. Another option was the car came with reversible seats. Check out the tv advertisement that reveals it.
The print (and television) advertisement's enticed buyers with the tagline: "It's a good year to have an Olds around you."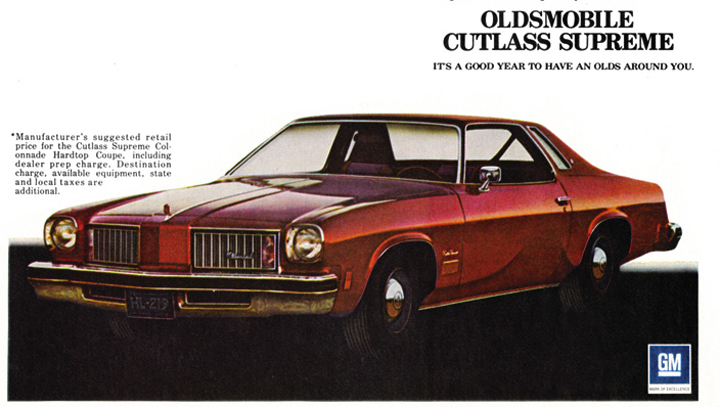 This combination led the Oldsmobile Cutlass to become the best-selling car of 1975, and to dominate for the next seven years with car sales in the US and in Canada.