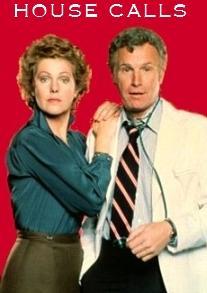 The end of the decade brought a sitcom to the airwaves that relied on the day to day of life in a hospital with House Calls.
Created by Julius Epstein and Max Shulman for NBC Universal Distribution, the premise was two hospital officials balancing work and a relationship.
Directed by Sheldon Keller, the series starred Lynn Redgrave as Ann Atkinson hopsital administrator who was at odd and attracted to Dr. Charley Michaels. played by Wayne Rogers.
Atkinson was no nonsense and trying to control the spending and decisions of Michaels. as well as Dr. Solomon and Dr. Weatherby, but also trying to resist Michaels' charm.
Other characters included level-headed Head Nurse Bradley and passionate senior candy striper Mrs. Phipps. Each episode was a conflict between the characters over patient care, resolved with funny lines and a healthy dose of physical comedy.
The half hour sitcom debuted in December 1979 on CBS TV, the first season of 13 episodes gaining notice and putting the series in the top 20 shows in the US at number 14.
Redgrave was nominated for an Emmy for Outstanding Lead Actress in a Comedy and a Golden Globe for her role in House Calls in 1981. She would be fired from the role, some say a dispute over salary, others say because she had brought her infant to the set soon after the birth.
The series ended in 1982 in its third season, even after the replacement of Redgrave by Sharon Gless, and with the series still keeping in the top 20 television shows.