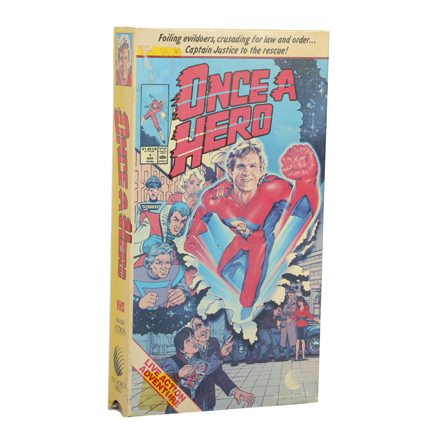 In the late 1980s, a new drama combined comic books and real life stories in the tv series Once a Hero.
Created by Dusty Kay, this action-adventure/sitcom was led by Abner Bevis (Milo O'Shea), an unsuccessful comic book artist.
His creation is Captain Justice (Jeff Lester) who begins to realize his life in Pleasantville is on the skids, as the author keeps repeating stories.
So Captain Justice crosses into real life, becoming Brad Steele, followed by Gumshoe (Robert Forster) a private detective who keeps an eye on Justice/Steele, while he decides to fight crime in the real world.
As interest grows in Steele, Bevis is more inspired with writing and the duo start gaining attention, especially of a newspaper reporter Emma Greely, who doesn't know that Steele/Justice is Bevis' creation.
First airing on ABC TV in September 1987, the series suffered from bad word of mouth, and although 11 episodes were planned and seven were filmed, only three were aired before cancellation.
Many stations didn't like the pilot and pre-empted it with another series, Star Trek: The New Generation. Marvel Comics had planned a comic book series based on the tv series, but after two issues was cancelled. TV and comic book are now relics of the late '80s, when an idea got the greenlight, but couldn't get the viewers.