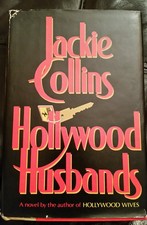 In the follow-up to Hollywood Wives, author Jackie Collins turned her to the men with the salacious novel Hollywood Husbands.
Published in 1986 three years after the first book of the series, Collins turned her pen to four main characters: Jack Python, Howard Soloman, Manon Cable and Jade Johnson.
Python is a night time talk show host who relishes the spotlight and has charisma, power and success as well as a torrid affair with an A list actress Clarissa Browning.
Soloman is the studio head who is all-powerful but needs to keep his boss happy by signing a deal with a daytime starlet Silver Anderson.
Cable is the A list actor of Hollywood – but has a bruised ego after his divorce from superstar Whitney Valentine.
New York supermodel Jade Johnson arrives in LA and she is the lynchpin for these three men. She is on the cusp of the ultimate success and knows that these three can help or get out of the way.
And of course there is a long-kept secret about a young woman who came to Hollywood, was abused and left for dead. But is she? And who was she? And what do Silver and Whitney think about Jade?
Published by Bantam Books, a division of Simon & Schuster in 1986, this eleventh book by Collins was a bestseller, and overall sold 10 million copies in English.
Collins kept going with her Hollywood theme, writing Hollywood Kids, Hollywood Wives: The New Generation and Hollywood Divorces. Although she created new characters for each novel, a few characters from the first novel, Hollywood Wives, appeared in later books.